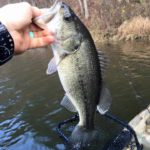 Welcome to the first posting of Crowe's Corner.
Not sure where this column is heading but I can assure you, if it's anything like my latest recon trip with the fishin magician, it could very well be my last. First some background info on me. I have fished off and on most of my life. I only started to really get back into fishing when Ryan persuaded me to get a small boat or yak to fish local areas in my home town. After a little convincing from Ryan (a ploy namely for Ryan to buy a yak for himself) I purchased a New Canoe Frontier in early June. From that moment on, the experience of fishing from a kayak hooked me. It has actually become an obsession for me as which my wife can attest. I have spent most of the summer and fall fishing local areas on the yak. I have outfitted my yak with a marine battery, trolling motor, and various gadgets to further my obsession and lessen my bank account. It has opened a new world for me and allowed me to share some fun moments with family and friends. That brings me to the latest adventure with Ryan and I am not sure where I can even begin with this recon trip on Ryan's birthday. It had everything from F150 hill climbs to falling down muddy hills backwards carrying a yak. This recon trip started with a tip from an avid angler. You all know how the story starts…"I got this spot" which usually ends with "I can't tell you where it's at". However this gentleman, who wishes to remain anonymous, was kind enough to share on the caveat that we not share the location. The catch… It's in a remote area, in a valley, and the only point of entry is at the base of a 100 yard hill that is straight up. The trip was carefully planned by studying google maps and the terrain. The bizarre weather has allowed me to further extend the fishing season into November which is uncommon for bass fishing. With all the planning completed, we set the date on Ryan's birthday. Big expectations, right? We had to catch something but so many unknowns came into play which only made the anticipation that much more.
The day started with all the normal preparations. Rods and Tackle…check. Paddle, life jacket, anchor…check. The only thing left to do was execute. After a 40 min drive to this remote lake, the anticipation only built as we neared our destination. Visions of pulling out 5 pound monsters flashed in my mind the entire commute. I also had opposing visions of Ryan telling me I ruined his birthday by taking him to a fishless lake.
On arrival, reality quickly set in. Two roads awaited us beyond a narrow gate made for much smaller vehicles.
Road 1: A smooth dirt road that would put the trucks running boards at your chest when walking up the road.
Or Road 2: A rut filled road that would guarantee a bottom out.
Our only remaining option would be to safely carry the yaks by hand up the hill to the lake. So logically, we take the non-safest route…the road that could ultimately lead to us rolling Ryan's truck. After analyzing the road and entry speed we made (mostly Ryan) the decision to go for it. Only problem with this approach, we only had room for Ryan's yak. My yak was left on the trailer as we thought we would just come back down and get it. Ryan dropped the truck into 4×4 and up we went; slowly, oh so slowly. Nervously laughing while filming this stupid decision from inside the truck, we ascended the hill. At times the tires struggled to catch traction slipping on multiple occasions. I kept thinking about how we would explain rolling the truck to the authorities or worse yet, our wives. How many times have you seen an event on the news where you go, "What were those guys thinking?" This moment had all the makings of a leading story on the evening news. At the very least it would have been a plug for Reel Fish'n. As we reached the peak of the hill I think we both exhaled a bit in relief of making it then proceeded to tell each other how there was never a doubt…we got dat. After we unloaded what felt like an infinite amount of Ryan's gear we both made the decision not to bring the truck back up the hill. "Let's just leave it and bring your yak up by hand" Ryan said. I look down what felt like Mt. Everest to the parking lot that seemed so far away. I think I even saw a tumbleweed fly past the trailer with the yak that was left behind. Did I mention my yak weighs an awkward 75 pounds…unloaded? Knowing that Ryan did not have a chance to workout this morning, I could not help but wonder if this was by design. We grabbed the yak, went up the hill making it to the top both out of breath. There we were, looking down the hill at the lake. We both grabbed our gear and descended the hill as quick as possible.
Still skeptical, we climbed in the yaks. The day started off in the mid-50s with wind below 5mph making for excellent fishing conditions. With the tip received from the angler who told me about the spot, he also showed me all his personal fishing holes. In the lead, I quickly paddled to the point where I was told about 5 pound lunkers, however I started just to the right of it, leaving room for drifting. Selfishly, I let Ryan go off to the left and fish from the other side of the small lake. Hey, you would do the same thing! Approaching the spot my left leg started to shake as I stood in the yak. I grabbed one of my three rods with my go to jig. Cast out about 15 feet letting the jig fall to the bottom. Jig….wait….jig….wait…..jig……FISH ON! Man did it hit. Immediately thoughts go through my head of catching fish after fish all day long! I yell with excitement over to Ryan…."Got one on first cast." This, personally, was my first mistake and karma quickly set in. Reel in a what felt like a lunker to only land a small Crappie. Snap a pic and send it over to Ryan. By that point, the magician already started paddling his way over after catching a bass on the left side. I cast a few more times, nervously anticipating Ryan's arrival. I catch a small bluegill and think dead hole. I'll depart this area and drift over to the real spot, leaving this already over fished hole for Ryan. On my drift over to the left, I look and don't see much structure but the hell with it I say. This is the spot I was told about. Cast after cast…nothing. That's the exact point in time karma come back to get me full force. "Fish on", Ryan yells. Not only do I feel like an idiot, Ryan gives me the full play by play. "The bass is pulling me around."
Thoughts race through my head. Do I go back or stay on point and continue with my intended target. I can't be that guy, I say out loud. Leave it go, I think, he only caught one fish. I can't quite see him around the corner, but I hear the splashing and maniacal laughing. I continue casting with no fish landed. Boom, I hear it again….."Fish On, it's a nice one." Here we go, out fished yet again. Key mistakes made on my part. Ryan is a premier fisherman so I knew once he heated up I never would be ever to compete…not that is what it's about…but it kinda is. I kindly say nice work, "What you catch it on, BUDDY." "Shad," Ryan yells. Shad, I say, ok, lets try that. Look in my tackle box and find a $15 lure that makes wounded shad sounds. This will get the fish biting. My turn now. Cast after cast…nothing. My fishing partner drifts past me down the lake. "Man, that was a nice bass", he exclaims. As Ryan continues to drift he pulls fish after fish out leaving me saying internally, "Hey, it's his Birthday." Finally I switch to a weighted grub and start landing decent bass, but nothing compared to what Ryan caught. A few hours pass and we both land a good number of fish. The whole time I know we both are thinking about what waited ahead. Getting the yaks and the truck back in one piece. Fishing slowed down for me in the last hour as Ryan continued to pull nice fish after nice fish out of this lake. I love fishing with Ryan as I am a novice at this, but each time I go I learn new things. We make the call to quit as the wind begun to pick up and the clouds rolled in. Getting all the gear put away, we have to carry the yaks up the hill. Another mistake by me, I wear boots without much traction on them. I take point and help Ryan carry his yak up first. Slipping multiple times, I finally take the ultimate spill, falling down into the mud launching Ryan's yak backwards. Covered in mud, we finally get to the top with both yaks and begin planning the descent of the truck. One of the great features of the New Canoe line is that you can purchase wheels that slip into a designated port on the back making the canoe mobile for one person to carry. I make the trip back down the 100 yard hill without getting hurt. Success I think, now we need to get the truck down. Quickly, I turn and pull out the phone to catch video of this event. Ryan brings the truck to the dirt road and starts his approach. The video I take clearly shows my nerves as he starts down. I actually see small rocks tumbling down as the truck travels on the path. Safely, Ryan makes it. We both sigh in relief.
Every trip is an adventure but this was rewarding as we can add another fishery into the rotation. Hope you enjoyed the story well enough to get enough likes to get a free Reel Fish'n hoodie. Until next time, Fish On!
– Justin
Learn more about Justin in the coming weeks as we welcome him to our RF Pro Staff and trip features in "Crowe's Corner".